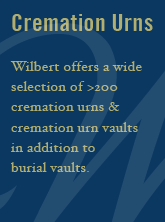 Personalization
Wilbert offers multiple ways to personalize a burial vault or urn vault with words, symbols, and images that speak of a singular spirit. Your loved one had a unique personality. The selections you make for the visitation and service should communicate that singular spirit. These choices ensure your loved one's memory is remembered for generations to come.
Ultimate Service Provider
At Knauer Industries, our management and employees are pleased to be a Wilbert "Ultimate Service Provider." There are four service levels:
Minimum Service Provider
Basic Service Provider
Premium Service Provider
Ultimate Service Provider
To be classified as an "Ultimate Service Provider, " one must receive at least 75 points out of 88 points.
Our employees have helped make this achievement possible for 5 years running.
The recipients of the ultimate service are the families in our area.
Disinterment Service
Knauers offers
disinterment services in the event a family should relocate to another town or state
and would like their
loved one's remains relocated to another cemetery
. We can assist the funeral director with the relocation of your loved one's remains. Please have your funeral director
contact our office
.
Vault Transfer Service
Vault Transfer is a
service available between Wilbert licensees and dealers
. Wilbert Burial Vault uses the vault transfer service when a burial request has been made outside of the licensee territory. The location of the cemetery is needed to determine the appropriate Wilbert licensee or dealer. Since the services offered by each Wilbert licensee vary, the licensees work together on a per burial basis to determine the services, such as tents, grass, chairs, and grave digging that each licensee will provide for the burial.
Please
contact us
for further information.